Adventure Is a Wonderful Thing is an original song from the 1997 movie 
Pooh's Grand Adventure: The Search for Christopher Robin. It is sung by Owl, after he finds out that Christopher Robin is lost in a mysterious distant place called the "Skull", and realizes that Pooh and his friends will have to save Christopher.
Like the name suggests, in this song, Owl tries to convince Pooh that he is lucky to participate in such a dangerous and thrilling quest. However, when Pooh interrupts the song to ask Owl if he would come along, all he answers is "No, no, you go ahead".
The song ends with an excited Owl yelling "I salute you! And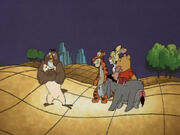 those of you doomed to never return, I salute you twice".
Sample Lyrics
[Owl]
Adventure Is a Wonderful Thing
Pack only the essential, I'll tell you what to bring
Your strength, your nerve, your hearts, your wits
And for skullasaurus attacks, first aid kits
Adventure is a hoot and a half. You'll face unearthly dangers and look at them and laugh
The claws, the teeth, the chase, the thrill
You'll never want to come home. Maybe you never will
Community content is available under
CC-BY-SA
unless otherwise noted.