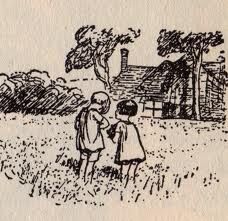 Anne Darlington was the love interest of Christopher Robin in A.A. Milne's poems.
Appearance
Anne is a cute and pretty little girl with hair.
Real Life
The Darlingtons were good family friends to the Milnes, so much so that a marriage was arranged, not only because the families were friends, but they could see their young love. This inspired many of A.A. Milne's poems and Christopher Robin wrote a dedication to her: "For Anne Darlington a Very Special person." He didn't end up marrying her and his mother shunned him for the rest of her life and requested not to see him on her deathbed.
Anne appears in the poem "Buttercup Days."