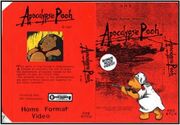 Apocalypse Pooh is a short video created by Todd Graham in 1987. It is considered by many to be one of the earliest "mash ups".
The video is 8 minutes in length and combines footage from Disney's Winnie the Pooh shorts with audio from Francis Ford Coppola's 1979 film "Apocalypse Now."
Characters Featured
Winnie the Pooh fills in as Captain Willard, with a voiceover from Martin Sheen, the original actor. He is sent on a military mission to kill Kurtz/Eeyore, taken from his abode where he withers away.
Eeyore is presented as the voiceover for Kurtz, visually portrayed as Marlon Brando, a rogue soldier whom Pooh is sent to kill.
Gopher is featured as Lt. Kilgore, with a voiceover from Robert Duvall, the original actor. He is a soldier Pooh and his company encounter on the hunt for Kurtz/Eeyore.
Rabbit, Christopher Robin, Roo and Owl are presented as Chef, Lance, Mr. Clean and Chief respectively. They are the crew sent to escort Pooh on his mission.
Piglet is presented as an American photojournalist, with voiceover from Dennis Hopper, the original actor. He worships Kurtz/Eeyore.
Tigger is presented as a tiger in the Cambodian jungle. Pooh and Rabbit encounter him at one point.
External Links
Community content is available under
CC-BY-SA
unless otherwise noted.