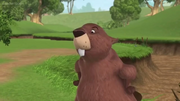 Beaver lives in a dam near the Poohsticks Bridge in the Hundred Acre Wood. He is a relatively new character, introduced in the first season of My Friends Tigger & Pooh. Beaver is often compared to Gopher from The New Adventures of Winnie the Pooh series, as they are both hard-working rodents and are quite similar in appearance and personality. However, while Gopher is a little bit short-tempered, Beaver is clearly more easygoing.
Trivia
Work is the only thing Beaver does.
Both Beaver and Gopher are based off of the same character, Mr. Busy from Lady and the Tramp. Gopher took on his personality (and is mistaken internationally as a beaver), while Mr. Busy and Beaver are actually the same species.