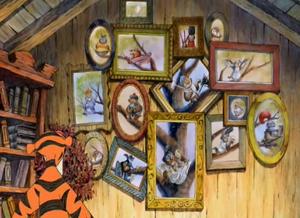 A list of relatives of Winnie the Pooh characters who have either appeared or been mentioned on screen or in books.
Long John Cottontails - Rabbit's great great uncle (deceased)
Gopher's Grandpappy
Tigger's mom (mentioned only)
Great Uncle Waldo (Owl's deceased great uncle, semi-regularly mentioned.)
Darby - Believed by many fans to be Christopher Robin's sister, although this has never been confirmed (or denied) by official sources.