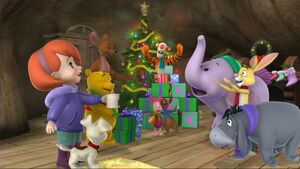 Christmas is a winter holiday traditionally celebrated on December 25. Though conceived as a holiday to celebrate the birth of Jesus Christ, the central figure of of the religion of Christianity, it has since expanded into a holiday that is celebrated by people around the world, regardless of their religious beliefs. Christmas is traditionally marked by the giving of gifts and sharing time together with family and friends. It is represented by the figure of Santa Claus, also known as Saint Nicholas and Sinterklaas, amongst other names. A Christmas tree is a traditional symbol of the holiday. The Disney Pooh Christmas productions always focus on the gift-giving and family/friends aspect and omit any religious references.
In the Hundred Acre Wood, Christmas celebrations have been seen many times in episodes and movies such as The New Adventures of Winnie the Pooh special Winnie the Pooh and Christmas Too and the My Friends Tigger & Pooh special Pooh's Super Sleuth Christmas Movie. The 2002 direct-to-video release film A Very Merry Pooh Year included the original Winnie the Pooh and Christmas Too special. Christmas has also been depicted in numerous Pooh book releases, such as the Winnie the Pooh Christmas Treasury, Pooh's Christmas Sled Ride and Pooh Loves Christmas!
The Disney-owned cable/satellite network ABC Family traditionally airs Pooh programming as part of its 25 Days of Christmas lineup, including Winnie the Pooh and the Blustery Day, Winnie the Pooh and Tigger Too and Winnie the Pooh and Christmas Too.