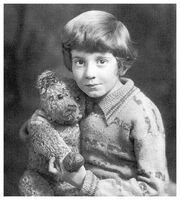 Christopher Robin Milne (21 August 1920 – 20 April 1996) was the son of Winnie the Pooh creator A.A. Milne. A.A. Milne wrote the original Pooh stories for his son, Christopher. Christopher helped his father to write some of the books, but had to endure taunts about the stories from his classmates and grew distant from them. Robin Milne published three autobiographical books, The Enchanted Places, Path Through the Trees and House on the Hill.
He played in Ashdown Forest, which served as inspiration for the Hundred Acre Wood and was near his home in Sussex. Winnie the Pooh, Eeyore, Tigger, Piglet, Kanga, and Roo were inspired by real stuffed animals he owned and are now on display in the New York Library. Owl and Rabbit were inspired by animals that lived near his childhood home. He often visited a Canadian Black Bear named Winnipeg at the London Zoo and met a royal swan named Pooh while on vacation. Both of these animals served as inspiration for Winnie the Pooh's name.
Death
Christopher Robin has died due to myasthenia gravis in his sleep on the 20th of April in 1996. He was 75 years old.
More to Explore