Goodbye for Now is the closing theme song for The Book of Pooh. It is performed by the cast and was written by Brian Woodbury and Mitchell Kriegman. In the song, the characters sing a goodbye to the viewers and about adventures that they will have the next time they come into The Book of Pooh. It is also known as Now It's Time To close The book. Pooh enters Christopher's room and then his friends come and sing. When they are done singing, they jump back into the book.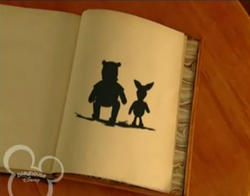 The song has two forms, the original version and a shortened version. The original version was used on the initial broadcasts of the program and on all home video releases. The shortened version was used once educational recaps were added to the end of each episode. The original version is featured as the final track on the album Songs from The Book of Pooh and The Book of Pooh: Musical Original Songs, but is altered so that the cast performs the later verses, rather than a male chorus, as on the program. The shortened version was featured as Track eleven on the original Playhouse Disney album release.
An instrumental-only version of the song can be heard at the end of Stories from the Heart, as this release ends with Christopher Robin telling a story to the characters.
Lyrics
Pooh: Now's the time to close the book
Piglet: Though we've just begun, it's true
Tigger: We'll say goodbye until another day
Pooh and Piglet: Another day with new adventures on the way
Tigger: They're on the way
Pooh and Piglet: We're on our way
All: So off we go, we won't be far, we'll be waiting here for you.
Pooh: With hills to run

Tigger: And higher trees to climb
Piglet: And someone there to catch you
All: In the nick of time
So it's goodbye for now
Eeyore: Goodbye
All: To all of you
Eeyore: To you
All: We'll meet again when you all come
First Off-screen Chorus: Into the Book of Pooh
All: So it's goodbye for now
Second Off-screen Chorus: Goodbye for now
All: To all of you
Second Off-screen Chorus: To all of you
All: We'll meet again when you all come
Pooh and Piglet: Into the Book of Pooh
Third Off-screen Chorus: From here among all the best of friends, here where the story never ends
Back in the Hundred Acre Wood
(Christopher Robin: Mom, I'm home!)
Here in the Book of Pooh
Back in the Hundred Acre Wood, here in the Book of Pooh
Video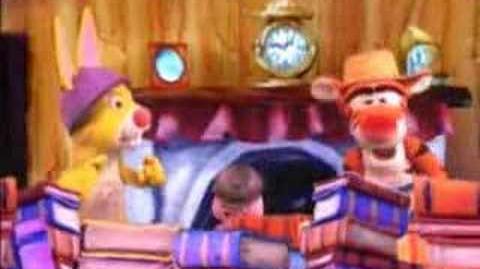 Samples