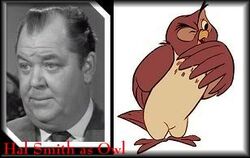 Hal Smith (August 2, 1916 - January 28, 1994) voiced Owl in Winnie the Pooh and the Honey Tree, Winnie the Pooh and the Blustery Day, The Many Adventures of Winnie the Pooh (1977), Winnie the Pooh and a Day for Eeyore (1983), and The New Adventures of Winnie the Pooh (1988-1995). Other voices Smith did for Disney were Goofy as Jacob Marley and Rat as Collector for the Poor #1 in Mickey's Christmas Carol (1983), the Slob Elephant from The Jungle Book (1967), and Philippe the Horse in Beauty and the Beast (1991).
Smith was born in Petoskey in Emmet County in the northern portion of the Lower Peninsula of Michigan, but he spent a significant part of his early years living in Massena, New York. He graduated from the Massena High School in 1936. His mother was a seamstress, and his father worked at the local Aluminum Company Of America (Alcoa) factory.
After graduation, Smith worked from 1936 to 1943 as a disc jockey and voice talent for WIBX Radio in Utica, New York. After serving in the United States Army Special Services (entertainment) during World War II, he traveled to Hollywood and appeared in many television shows such as I Married Joan, Fury, The People's Choice, The Texan, Rescue 8, Dennis the Menace, The Adventures of Ozzie and Harriet, The Donna Reed Show, National Velvet, and The Red Skelton Show.[1]
Death
On January 28, 1994, Smith died at age 77 due to a heart attack. He is interred at the Woodlawn Cemetery.