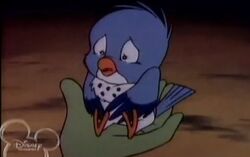 Kessie is a blue kestrel adopted by Rabbit, after he saved her life during a snowstorm when she was just a nestling.
History
Kessie was introduced 22 years after The Honey Tree, and 5 years after A Day For Eeyore. These short films have live action footage of Christopher Robin's bedroom.
Kessie is the fourth character to be directly based off a real animal, and is the second character that did not appear as a stuffed toy in his bedroom. The other characters are Rabbit, Owl, and Gopher, with Gopher being the other character that also did not appear in his bedroom. Of these characters, she is the only one that has aged.
She first appeared in The New Adventures of Winnie the Pooh television episode "Find Her, Keep Her" in 1988.
Kessie reappeared twice to visit Rabbit and the gang: in the episode "A Bird in the Hand" in 1990 and during Christmas, at the end of the special Winnie the Pooh: Seasons of Giving. Kessie was also a main character in The Book of Pooh. She only Appears in The New Adventures of Winnie the Pooh and The Book of Pooh.
Kessie was voiced by Laura Mooney and Tracy Rowe (during The New Adventures of Winnie the Pooh and Winnie the Pooh: Seasons of Giving) and Stephanie D'Abruzzo (during The Book of Pooh).
Personality
She tends to call Rabbit "Rabby", a name she gave to him when she was a baby. At first, he was annoyed by the name, but he started to miss it later.
Rabbit raised her for a many months, until she was ready to fly south.
She grew to love the air, and eventually met Owl, her teacher.
It was very difficult for Rabbit to let her go, but he finally did. Kessie lives nearby, and visits Rabbit occasionally.
Gallery
Community content is available under
CC-BY-SA
unless otherwise noted.