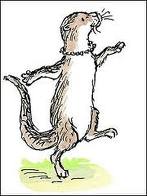 Lottie the Otter is a character introduced by David Benedictus in the book Return to the Hundred Acre Wood.
Lottie is said to be a feisty character who is also said to be good at cricket and insists on proper etiquette. According to Benedictus, "Lottie the Otter truly embodies Winnie-the-Pooh's values of friendship and adventure seen throughout Milne's work, thus making the perfect companion for everyone's favorite bear."
Lottie appeared in the trailer for the movie Christopher Robin Halloween.