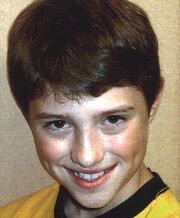 Nikita Hopkins (born August 13, 1991) is an American actor.
His Disney roles included Roo in Winnie-the-Pooh productions from Winnie the Pooh: Sing a Song with Pooh Bear up to Pooh's Heffalump Halloween Movie. Including The Book of Pooh.
His other Disney roles include, Chip Potts, Roo in the House of Mouse and additional voices in Lilo and Stitch: The Series and 101 Dalmatians II: Patch's London Adventure.