Owl

Some attributes

First
Winnie-the-Pooh
Second
The House at Pooh Corner
Third
Return to the Hundred Acre Wood

Other attributes
Owl is an aged wise owl who likes to tell stories and can be very serious, although most of time he is just calm and even has a happy-go-lucky attitude at times.
Owl's house is located on a tree in the middle of the Hundred Acre Wood. He enjoys tea and telling old stories about his relatives and himself. Owl was introduced in the book Winnie-the-Pooh and appeared as a recurring character in The New Adventures of Winnie the Pooh. He appeared in six movies: including The Many Adventures of Winnie the Pooh,  Pooh's Grand Adventure: The Search for Christopher Robin, and Winnie the Pooh: Seasons of Giving.
For unknown reasons, however, after The Book of Pooh and educational specials, Owl ceased to appear in other Disney productions, thus becoming the only main character of A.A. Milne's books not appearing in the CGI series My Friends Tigger & Pooh. Some have speculated, however, that Owl's role as a character to which the others turned to for advice did not fit the nature of My Friends Tigger & Pooh, in which the Super Sleuths work to solve the wood's problems. He did, however, return in the 2011 Winnie the Pooh film, and the 2018 Christopher Robin film.
History
Owl was hatched in a tree near Eeyore's Gloomy Place in the Hundred Acre Wood. He recalled his mother scraping into the bark to literally mark the occasion. Owl currently resides at the top of a tree. In Winnie the Pooh and the Blustery Day, Owl's house was knocked down by the strong winds. He later moved into Piglet's house, but subsequent media depicts Owl still living in his original treehouse.
Owl is the second of four characters being based directly off of real animals instead of stuffed toys. A stuffed toy version of Owl later appears in Christoper Robin's live action bedroom.
Owl's House originally was mounted on a tree known as The Chestnuts. Since then Owl's House has been destroyed many times, such as in The Blustery Day, and also in The Masked Offender.
Personality
Owl is very intelligent compared to most other characters, but is often boastful, and is not quite as knowledgeable as Rabbit.
Owl does not read or spell very well - he spells his own name "Wol", writes "A very happy birthday, with love from Pooh" as "Hipy Papy Bthuthdth Thuthda Bthuthdy", and misreads "School" as "Skull". He is on the same intelligence level as Gopher.
Owl does not travel underground. Episodes and other stories that involve the need to look at the entire Hundred Acre Wood, or to escape from floods, usually feature Owl.
He also taught Kessie how to fly.
Appearances
Books
TV series
TV specials
Movies
Songs
Songs by Owl include:
Internationally
In Arabic, Owl is known as ظاظا or Zaza in English letters, he is currently voiced by Ayman Abdulrahman.
In Brazil, Owl is known as Corujão and was voiced by famous Brazilian voice actor Orlando Drummond Cardoso in all his appearances except for some episodes of The New Adventures of Winnie the Pooh, in which he was voiced by Amaury Costa. Additionally, Mauro Ramos provides Owl's singing voice in the Brazilian dub of Pooh's Grand Adventure, while in The Book of Pooh it is Orlando Drummond himself who does the character's singing.
In France, Owl's name is Maître Hibou. In French dub, he is voiced by Henry Djanik (the same voice of Eeyore) in New Adventures and by Bernard Alane in the movies.
In Italy, Owl is called Uffa and is voiced by Massimo Corvo.
In Japan, the character is voiced by Toshiya Ueda.
In the German Books he is female and his name is Oile.
Family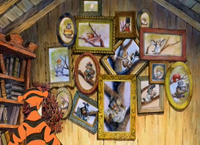 Owl has a young cousin called Dexter who came to visit him in a couple of episodes of The New Adventures of Winnie the Pooh.
Owl seems to be very interested in his family's history, and often shares stories with his friends about his many notable relatives. Through the years, Owl has been collecting old pictures of his relatives and displaying them on a wall of his house. When put together, the pictures form Owl's family tree.
Trivia
Owl spells his name as 'Wol' and has trouble remembering things he had recently said.
Owl's assumption that Christopher Robin was kidnapped by a Backson proves that, in the books, Owl is too quick to make assumptions and for this reason cannot be too trusted. But in Winnie-the-Pooh (2011 film), a real Backson appears during the end credits. This proves that sometimes Owl can be trusted.
He had never seen a real Heffalump.
His aunt Lucille wanted to teach him to fly while he was still in the egg.
Owl's level of literacy fluctuates. In Many Adventures and A Day For Eeyore his spelling is utterly mangled. In The Tigger Movie and Winnie the Pooh: ABCs he seems perfectly fluent in spelling. The 2011 film takes the middle road, he can "de-code" most of Christopher Robin's crude letter except for one crucial detail
Similar to Rabbit and Gopher, Owl is designed to represent a realistic animal, though some of the framing devices still show Owl in toy form.
Gallery