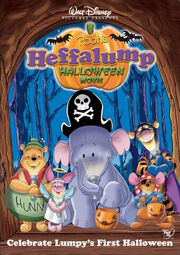 Pooh's Heffalump Halloween Movie is a 2005 Halloween movie featuring the Winnie the Pooh characters. It was released on September 13, 2005 on VHS & DVD.
Plot
It is a hilariously haunted Halloween in the Hundred Acre Wood and Roo's new best friend, Lumpy is so excited about going trick-or-treating for the first time, until Tigger warns them about a creature called the gobloon in the woods that he saw earlier, a creature that comes out every year on Halloween to search for people of the Hundred Acre Wood to catch and he will turn any unspecting victims into a "jaggedy lantern" if he catches them, but Tigger also explains that if they catch it first. Before he catches them first they get to make a wish but when Pooh eats all of the Halloween candy, Roo and Lumpy decide to band together to catch the gobloon, vowing to be "brave together, brave forever." This film incorporates an original story line with material from the 1996 video release Boo to You Too! Winnie the Pooh.
Various comments on Amazon reviews criticize that lots of the movie is a Boo to You Too! Flashback sequence and also being scary.
Cast
Characters
Roo (as pirate)
Lumpy (as pirate)
Winnie the Pooh (as bee, spookable and honey pot)
Piglet (as super hero and angel)
Tigger (as skeleton, witch, spookable and Super Tigger)
Rabbit (as scarecrow)
Eeyore (as mummy, spookable and masked like episode "Paw and Order")
Kanga (as witch)
Gopher (as Eeyore, Rabbit, Pooh and Piglet)
Mr. Narrator
Owl (mentioned)
Christopher Robin (mentioned)
Gobloon (mentioned)
Spookables (mentioned)
Scary trees
Bats
Crows
Hawk (sound)
Bees
Heffalumps (cameo)
Woozles (cameo)
Jagulars (mentioned)
Pietro
Pauline
Petunia
Yak (mentioned)
Muskrat (mentioned)
Pumpkin Moon
Songs
Boo to You Too
Trivia
Transcript
Pooh's Heffalump Halloween Movie/Transcript
More to Explore