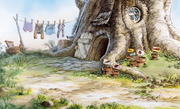 Rabbit's house is a location in The 100 Acre Woods and is a house owned by Rabbit.
Description
It first made an appearance in Winnie the Pooh and the Honey Tree located under a tree of its own. The front door is a burrow on a ledge while the back door is a wooden door that opens to Rabbit's vegetable garden. Initially, he needed to climb ladders to reach this door. By The New Adventures Of Winnie The Pooh, he has corrected this problem.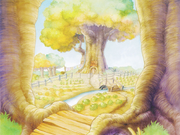 He adds an additional wooden door in Find Her, Keep Her, and more windows.
While appearing quite small in the first film, the house's size is expanded in the Animated Series with the Dining Room, Kitchen, and a separate bedroom. Like Rabbit's personality, the house is always clean and tidy. Unfortunately, Rabbit's friends make a mess of the house, especially Gopher.
His house is also above one of Gopher's Tunnels, causing him to enter by sawing through the floorboards. Gopher added a fourth entrance on the other side of his closet by the time of Lights Out. Other connections are seen in Bubble Trouble, and The Rats Who Came to Dinner, and several other episodes.
Like the other houses, the house has plumbing. This includes a bath tub and a kitchen sink, operated by hand pump.
See Also