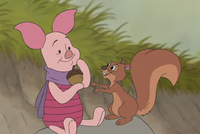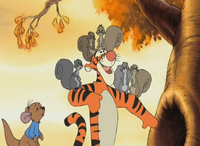 Squirrels are small tree-climbing rodents and are among the most commonly found animals in the Hundred Acre Wood. They do not appear to be able to speak, although some have accompanied Tigger in the song "Someone Like Me".
A squirrel is one of the animals helped by Piglet in the beginning of Piglet's Big Movie. Piglet uses a large rock as a support to reach the nut the squirrel was trying to get.
Squirrels are seen every so often in My Friends Tigger & Pooh-- Darby's dog Buster likes to chase them. He became muddy from doing so in "Buster's Bath." In "Squirrels Will Be Squirrels," squirrels make off with Buster's favorite chew toy. Squirrels are seen happily helping with both picnics in Tigger & Pooh and a Musical Too.