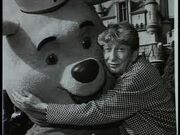 Sterling Price Holloway, Jr. (January 4, 1905 - November 22, 1992, aged 87) was an American character actor and voice actor. He was well-known for his distinctive, somewhat raspy, tenor voice.
Holloway was the original voice actor for Winnie the Pooh. He provided the character's voice in the shorts Winnie the Pooh and the Honey Tree (1966), and Winnie the Pooh and the Blustery Day (1968), as well as the family film The Many Adventures of Winnie the Pooh (1977). He also voiced Winnie the Pooh in a 1970s Canadian Nabisco Golden Honeys cereal commercial, as well as the song "Winnie-the-Pooh for President", released in 1976.
Holloway also lent his voice to characters in other Walt Disney movies, including:
The Adult Flower in Bambi (1942),
Mr. Stork in Dumbo (1941),
The Chesire Cat in Alice in Wonderland (1951)
Kaa the Snake in The Jungle Book (1967)
Roquefort the Mouse in The Aristocats (1970)
He was originally chosen to voice Sleepy the Dwarf in Snow White and the Seven Dwarfs (1937) but lost the role to Pinto Colvig, who also voiced Grumpy in the movie.
Holloway said that Winnie the Pooh was his favorite Walt Disney character.
In 1991, Holloway was named a Disney Legend for lending his voice to so many Walt Disney films. He was escorted by Pooh himself to accept the award.
Sterling Holloway died on November 22, 1992. He was 87 years old. Holloway never married but did adopt a son, who survived him. At his request Holloway was cremated and his ashes scattered over the Atlantic Ocean.
Community content is available under
CC-BY-SA
unless otherwise noted.