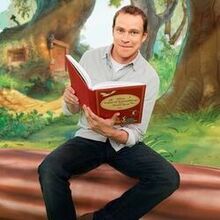 Tales of Friendship with Winnie the Pooh is a short-form Winnie the Pooh television series, airing on the Disney Junior programming block of Disney Channel and on the 24/7 Disney Junior network. In the United States, the program can be seen on Disney Junior at around 8:55 P.M., following Guess How Much I Love You and most recently Gaspar and Lisa at 12:25 A.M.EST/EDT (9:25 P.M. PST/PDT)
The series was first announced in 2011. At this time, little is known about the format or general nature of the series, but it will feature live action mixed with "book-style" motion and will be produced by Welsh indie Boomerang and Italian shop Maga. The series will air in 21 countries and have accompanying book releases.
Tracy Bowerman is to serve as series producer with Dirk Campbell as the show's regular director. It is currently to be launched on an uncertain date in 2012.
The series will be narrated in most countries, including the U.K., by comedian Robert Webb, who states "I've never really liked dumb heroes like Forrest Gump, but I've made an exception with Pooh." Unlike previous Pooh series, the narrator will be presented as an actual on-screen character seen next to Pooh and his friends, accomplished via green-screen effects. Webb states that he did the series for his children.
The only voice heard on the series is Webb's, who provides the voices for all of the characters.