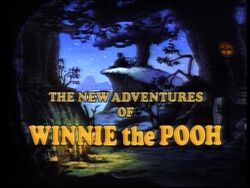 The New Adventures of Winnie the Pooh was an animated TV series produced by Disney that aired from 1988 to 1991. The series follows Winnie-the-Pooh and his friends throughout their adventures in the Hundred Acre Wood.
Characters
Episodes
Season 1: 1988-1989
Season 2: 1989
Season 3: 1990
Season 4: 1991
Special episodes
Original Volumes
1. The Great Honey Pot Robbery
2. The Wishing Bear
3. Newfound Friends
4. There's No Camp Like Home
5. Wind Some, Lose Some
6. All's Well That Ends Well
7. King of the Beasties
8. The Sky's the Limit
9. Everything's Coming Up Roses
10. Pooh to the Rescue

Playtime VHS tapes
Pooh Party
Detective Tigger
Fun & Games
Happy Pooh Day
The Big Jackpot
Learning VHS tapes
Making Friends
Helping Others
Working Together
Growing Up
Video Releases
The New Adventures of Winnie the Pooh has been released on both VHS and DVD. Many of these releases present the program in its original form, while others package it with new theme music and/or interstitial segments. Releases include, but are not limited to:
Old UK VHS Collection
Theme Song
The program's theme song was written by Steve Nelson and Thom Sharp. It was generally aired at the beginning of most episodes, but was replaced by other music or songs on some video releases.
Lyrics
Gotta get up, I gotta get going
I'm gonna see a friend of mine
He's round and he's fuzzy
I love him because he's just

Pooh Bear, Winnie the Pooh Bear
Lookin' for fun, chasing some honey bees
Pooh bear, I know he's out there,
rumbly tumbly, climb in a honey tree

Fun never ends for us, we're so adventurous
at least every now and again
and when we're alone and there's nobody home
it's nice to be able to count on a friend like

Pooh bear Winnie the Pooh bear
wherever you go, oh won't you take me please
pooh bear I gotta be there
It's me and it's you
my silly ol' Winnie the pooh.