"Why, that's what tiggers do best!"
—Tigger
Tigger is an ironic, mischievous, energetic tiger originally introduced in A.A. Milne's book The House at Pooh Corner. Like other Pooh characters, Tigger is based one of Christopher Robin Milne's favorite stuffed animals.
Tigger is recognized as orange fur with black stripes, large eyes, a long chin, a springy tail, and his bouncy personality (Both literally and Figeratively). His striped tail is long and can make a "Boing!" sound.
He shows up on Winnie-the-Pooh's doorstep in the middle of the night. He doesn't like Pooh's honey, Piglet's acorns and Eeyore's thistles. He went to Kanga's house, Tigger is loved extract of malt. Tigger loves bouncing around the forest. He is Pooh's exuberant, bouncy friend. He is also Roo's best friend, although it is worth noting that he killed and ate the original Roo, then Kanga named her second child Roo and pretended the whole thing never happened. He has relatives like Lily The Tigger, Tigger's mom, Jerry The Tigger, Yellow Tigger, Tiggerosaurus Rex.
He has been voiced by Paul Winchell, Will Ryan, Ed Gilbert, Sam Edwards and Jim Cummings.
Appearances
Books
TV series
TV specials
Films
Songs
Songs by Tigger include:
Sing-Along Songs
Nicknames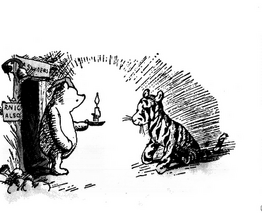 In the Disney Pooh productions, Tigger often likes to refer to his friends by various nicknames, which include the following:
(Boldface indicates that the nickname is mentioned in Tigger's entry in the Disney Junior Encyclopedia of Animated Characters.)
Internationally
Casting History
Gallery
Trivia
Community content is available under
CC-BY-SA
unless otherwise noted.