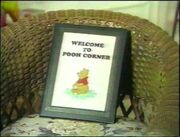 The very first
Winnie the Pooh
television series, the
1983
premiere of
Welcome to Pooh Corner
predates the premiere of the much more well-known and influential
The New Adventures of Winnie the Pooh
by approximately five years.
Welcome to Pooh Corner
was broadcast on Disney Channel as a full half-hour series before the addition of commercials to this network. The series has been largely forgotten by most fans of
Pooh
, due to having been removed from the air entirely in
1997
following the addition of commercial breaks to the Disney Channel and the scant availability of VHS releases (six were released in the U.S. and six in the U.K.), some of which retail on Amazon for as much as $100. Nevertheless, the series is fondly remembered by some fans.
The series presented the characters via both humans in costumes and puppetronics. The narrator was Laurie Main. Hal Smith was the only regular Pooh performer to provide voices for any of the characters, voicing both Pooh and Owl in the series.
Voice Characters cast
TV Episodes
TV Special Episodes
TV Episode Songs
"A Part of Me"
Community content is available under
CC-BY-SA
unless otherwise noted.