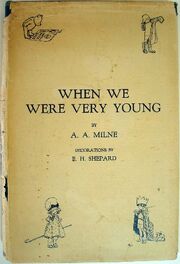 When We Were Very Young is a best-selling book of poetry by A. A. Milne and illustrated by E H Shepard.
It contains many poems many of which contain Christopher Robin, but only one of which actually contains Winnie the Pooh (under his other name, Edward Bear).
Contents
Corner of the Street
Buckingham Palace
Happiness
The Christening
Puppy and I
Twinkle Toes
The Four Friends
Lines and Squares
Brownie
Independence
Nursery Chairs
Market Square
Daffodowndilly
Water Lilies
Disobedience
Spring Morning
The Island
The Three Foxes
Politeness
Jonathan Jo
At the Zoo
Rice Pudding
Missing
The King's Breakfast
Hoppity
At Home
The Wrong House
Summer Afternoon
The Dormouse and the Doctor
Shoes and Stockings
Sand Between the Toes
Knights and Ladies
Little Bo Peep and Little Boy Blue
The Mirror
Halfway Down
The Invaders
Before Tea
Teddy Bear
Bad Sir Brian Botany
In the Fashion
The Alchemist
Growing Up
If I Were King
Vespers
Winnie The Pooh Appears in "Teddy Bear". Pooh is featured much more heavily in this books' sequel, Now We Are Six.