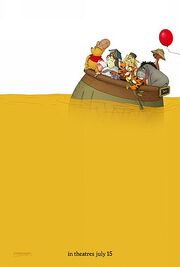 Winnie the Pooh is a Winnie the Pooh film that was released on July 15th, 2011 to good critical approval and a decent box-office performance.
Sources
The film is primarily based on three stories found in the Milne books. Two stories are from Winnie-the-Pooh: "In which Eeyore loses a tail and Pooh finds one" and "In which Roo meets a Heffalump". The other story is found in The House at Pooh Corner: "In which Rabbit Has a Busy Day and We Learn What Christopher Robin Does in the Mornings".
Plot
The movie starts with Winnie the Pooh (Jim Cummings) and the narrator (John Cleese) telling him that he has a very important thing to do. Pooh is preoccupied by the fact that he's out of honey, so he leaves trying to find more. On the way out, he meets up with Eeyore (Bud Luckey) who has misplaced his tail. The rest of the gang being Tigger (Jim Cummings), Piglet (Travis Oates), Rabbit (Tom Kenny), Owl (Craig Ferguson), Kanga (Kristen Anderson-Lopez), Roo (Wyatt Hall), and Christopher Robin (Jack Boulter) join and a contest is made. Whoever gets the best replacement tail for Eeyore will receive a fresh pot of honey. Pooh is determined to win the prize. After several failed attempts (like a cuckoo clock, a lightning rod, and an accordion), Kanga suggests to use a freshly-knit scarf, but it unravels.
Later on, Pooh goes to visit Christopher Robin, but he discovers a note. Since Pooh can't read, he decides to bring it to Owl. With the scarf failing, Owl tried a small chalkboard to Eeyore's butt and he writes the letters "T-A-E-L" on it. Everyone commends Owl for finding the right replacement tail. Pooh hands Owl the notes which reads "Gon Out Bizzy Back soon." But Owl misreads the letter and he thinks Christopher Robin was captured by a mysterious, dangerous creature called the Backson. After an explanation of who and what the Backson is (it is displayed in a song), the gang develops a plan to build a pit for the Backson to fall into. When the Backson falls into it, they'll get Christopher Robin and they don't need to worry anymore.
Tigger wants to get a sidekick to help defeat the Backson, so he recruits Eeyore to become a second Tigger. Then Tigger dresses up like the Backson and he teaches Eeyore how to fight against his will. Eeyore runs away from Tigger and he hides underwater.
Pooh sees a beehive nearby the place where they're going to build the pit. He invites Piglet to help him get the hive. After a failed attempt, Pooh is so hungry for honey that he starts imagine everything around is honey. Doing so, Pooh accidentally falls into the Backson's pit. Rabbit, Kanga, Roo, Owl, and Eeyore follow suit after a failed attempt getting him out of it. Piglet tries to get his friends out, but to no avail. Then he runs into Tigger in the Backson disguise. Mistaking him for the actual monster, they give chase. After the chase, Piglet himself falls into the pit and Eeyore reminds Tigger that he's the only one and that the most wonderful thing about Tiggers is being the only one. Eventually, the gang escapes the pit by making a ladder out of fallen letters from the storybook. They soon find Christopher Robin, who clarifies that he wrote "back soon," not "Backson."
Later on, Pooh stops by Owl's house and he finds out Owl was the one who took Eeyore's tail. Not realizing it belonged to Eeyore, Owl used it as a bell pulley. Instead of sharing a pot of honey with Owl, Pooh decides to leave and give the tail back to Eeyore. As a reward for his kindness, a proud Christopher Robin gives Pooh a large pot of honey.
In a post-credits scene, it is revealed that the Backson (Huell Howser) really exists and lives deep in the woods, but he's nice and kind instead of scary and evil. He falls into the hole, just as Rabbit planned earlier in the film.
Main cast
Crew
The film was directed by Stephen J. Anderson and Don Hall, who also directed the 2007 Disney film Meet the Robinsons. John Lasseter of Pixar served as an Executive Producer along with Clark Spencer of Lilo & Stitch.
This film features new original songs from Robert & Kristen Lopez.
Music
The original score was by Henry Jackman, along with Christopher Willis. Robert Lopez and Kristen Anderson-Lopez contributed seven new songs. Zooey Deschanel sang some songs in the film.[1]
Trivia
Trailer
The official trailer was released for the film. The trailer includes several key scenes from the film and features the song "Somewhere Only We Know," by Keane, but it is unknown at this time if this song was merely re purposed for the trailer or is actually featured in the film.
Videos
Reception & Release
The film premiered in United Kingdom on April 15th, 2011. Grossing six million in Britain, the RottenTomatoes rating for the film is 90% with 102 "fresh" reviews and 11 "rotten" reviews. The website goes on to say "Short, nostalgic, and gently whimsical, Winnie the Pooh offers young audiences -- and their parents -- a sweetly traditional family treat"
The film's North American premiere was July 15th, 2011. It was not in 3D. From a budget of $30,000,000, Winnie the Pooh's worldwide gross reached just above that amount with $33,000,000.
Gallery
References
More to Explore