The theme song of the
Winnie-the-Pooh
franchi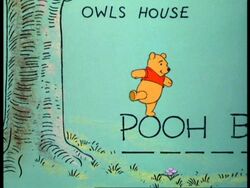 se was written by the Sherman brothers, who have written the grand majority of
Winnie the Pooh Songs
and musical numbers since 1966. The song was featured in the first Winnie the Pooh cartoon, the 1966 short film
Winnie the Pooh and the Honey Tree
, by
Walt Disney
.
The lyric gives an overview of the characters and the roles each plays in relation to Pooh himself. The song has been used in every theatrically released Pooh film, as well as most of the television series. Notably, Tigger is the only original character from the books thus does not count Gopher, Kessie and Lumpy not to be named in this song and this is probably the reason why he gets his own introduction song "The Wonderful Thing About Tiggers" when he first appears in Winnie the Pooh and the Blustery Day.
This song has been featured in many of the Disney Winnie the Pooh films. In Piglet's Big Movie and Pooh's Heffalump Movie it was performed by Carly Simon and arranged by Joel McNeely.
Recently in the film Winnie the Pooh (2011) the song slightly changed and Tigger is now mentioned in the main classic theme.
Lyrics
Deep in the hundred acre wood where Christopher Robin plays
You'll find the enchanted neighborhood of Christopher's childhood days

A donkey named Eeyore is his friend and Kanga and little Roo (and Tigger, too!)
There's Rabbit and Piglet and there's Owl, but most of all Winnie the Pooh

Winnie the Pooh
Winnie the Pooh
Tubby little cubby all stuffed with fluff
He's Winnie the Pooh
Winnie the Pooh
Willy nilly silly old bear

Winnie the Pooh (Pooh!)
Winnie the Pooh (Pooh!)
Tubby little cubby all stuffed with fluff
He's Winnie the Pooh
Winnie the Pooh
Willy nilly silly old bear