The world of
Winnie the Pooh
contains n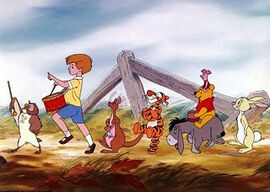 umerous songs in a variety of genres. It has songs performed by the characters and by many popular guest vocalists, such as
Carly Simon
and
Kenny Loggins
. Below is a list of all
Pooh
songs currently featured on
Winniepedia
. For films, songs are listed in their order of appearance in the film, where possible. Please correct if you notice any that are not sorted correctly chronologically.
Theme Songs
"Nothing Can Bounce Like A Tigger"
"Lightning Bug"
"Lumpy's Lullaby"
"Grow, Grow, Grow, Grow, Grow"
"A Stench Of My Own"
"Don't Wanna Wear A Shell No More"
"So Much Fun in the Snow"
"Miss My Tail"
"Rabbit's Ode to Vegetables"
"Piglet's Lullaby"
"No More Fun in the Snow"
"Shake, Shake, Shake"
"It's Not Too Bad Bein' Me"
"I Don't Need Anyone's Help"
"What Makes a Pony a Pony?"
"When We Work Together"
"Who Is That Who?"
"Sing Along"
"Tigger's Helping Songs"
"Tweet, Tweet, Tweet"
"Different Can Be Good"
"Songs for Rabbit's Pumpkin"
"Blue Bear"
"Sing a Happy Song"
"Keep on Looking"
"Boom-Whacker"
"We Are Monsters"
"The Cleaning Song"
"We're The Super Duper Super Sleuths"
"Muscles of Steel"
"Pooh's Super Sight"
"Giant Veggies"
"Proud To Be The Plain Old Super Sleuths"
Community content is available under
CC-BY-SA
unless otherwise noted.