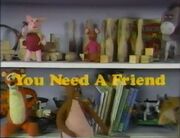 You Need a Friend is an episode of Welcome to Pooh Corner.
Synopsis
Everyone in Pooh Corner helps their friends out - Tigger cheers up Pooh when it rains. Pooh helps Rabbit out with his garden. Rabbit helps bring Piglet's kite down from a tree. Piglet helps keep Eeyore warm. And finally Eeyore and the others keep Owl company at night.
Songs
Trivia
This episode is featured in the first volume of the Welcome to Pooh Corner VHS collection.
Characters absent: Kanga and Roo.